"I can say, with 100% certainty, this was the best course I have ever been on" – Okeyinfu Ajayi, Assessment Lead
Last week, 18 teachers and senior leaders from eight countries came together in Durham, England, for our four-day Assessment Lead Programme Residential (and a boat trip down the river!).
The Assessment Lead Programme enables education professionals to make assessment more efficient and purposeful, allowing them to make more reliable judgements about what pupils understand, can do and need next.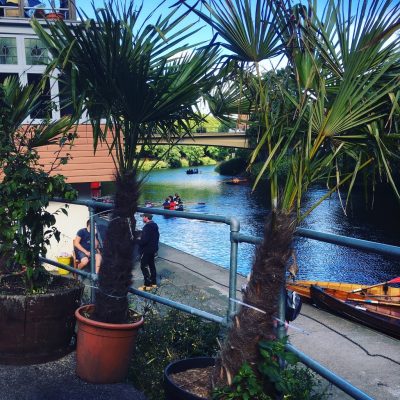 We welcomed delegates from Mexico, South Korea, The Netherlands, Kenya, Nigeria and Egypt, as well as domestic teachers from the UK, to the Radisson Blu Hotel in Durham. Delegates on the course enjoyed their week in the north-east of England and, as well as having time to see some of the beautiful cathedral city, they also developed their knowledge and approach to:
Using assessment more effectively to support curriculum planning and pedagogy;
Developing powerful formative 'hinge' questions and quizzes that can be used during teaching to identify pupil needs and common misconceptions;
Designing formative and summative assessments that are demonstrably reliable in supporting curriculum planning and tracking progress; and
Providing support and advice to colleagues in the design and use of good assessment.
Alongside the four days of rigorous and practical assessment training, we also arranged three excellent guest speakers, who joined us on the morning of 1st August, and then after dinner on 2nd and 3rd August. Professor Peter Tymms (School of Education at Durham University) gave an overview of assessment to kick off the course; Alex Quigley (Director of Huntington Research School) spoke on the challenges, successes and next steps of evidence-based school improvements; and Professor Jonathan Sharples (Senior Researcher at the EEF) gave an inspiring talk on his vision for an evidence-based school system. We will release both of these talks as podcasts in the coming months, so follow us on Twitter and Facebook, and keep an eye out for more information.
We also felt very fortunate that the Council of British International Schools was keen to offer the programme to their member schools, and this added a truly memorable, international feel to the week. The range of different contexts, countries and education systems at play gave rise to some excellent debates, and the delegates now join the Assessment Lead Network – they will stay in contact as they take their learning back into their very unique contexts, challenging and supporting each other along the way.
What did our delegates think of the Programme?
Although we won't know how effective this Programme truly has been until the delegates go back to their schools and start using the tools and guidance to implement improvements, the initial feedback was very positive indeed!
100% of the group said that the course met or exceeded their expectations, and 100% of delegates would recommend the Assessment Lead Programme to friends or colleagues.
According to Suzanne O'Farrell, Assessment and Curriculum Specialist at the Association of School and College Leaders, "Schools desperately need this kind of clear guidance to question the how and the what of their assessment practices".
As well our energetic and knowledgeable staff coming in for praise in participant feedback, the practical tools which form part of the course were among the highlights. For Jamie McNamara, Deputy Head (Primary) at Dulwich College Seoul, "the tools, which allow teachers to create reliable assessments for themselves, will be very useful as we come to create our own summative assessments. We can now ensure that the assessments we use actually align with our curriculum".
Had a fabulous week. Thank you @StuartKime @jrcd92 #AssessBetter and all the newly certified Assessment Leads

— Charlotte Appleyard (@lilsebasti) August 4, 2017
High quality content, great location and i've met some lovely people from all over the world. A superb week. Thank you @EvidenceInEdu

— JCMcNamara (@J_C_McNamara) August 4, 2017
@EvidenceInEdu has given me much more than I hoped for when I signed up to be an #assessment #lead. Who is this guy??!!! pic.twitter.com/Is34zCMhG1

— Okeyinfu Ajayi (@okeyinfu) August 3, 2017
What's next?
Next in the pipeline is the development of our full-blown Assessment Lead Programme. Starting in October, this will provide a framework for improving a school's in-house assessment approach, both formative and summative. It includes an element of online learning. However, the real learning takes place in school: applying the theory to the individual context; using the tools and resources provided; working with colleagues to design and refine assessments; and generally honing skills to integrate effective assessment as part of curriculum and pedagogy.
Bookings will open in September, with this year's places limited to 50 schools.
For more information, visit www.assessmentacademy.co.uk.