We recently spoke to Mike Downes, Head of History and a teacher at Dulwich College, Shanghai Pudong. The college began using the Great Teaching Toolkit in 2021 as an initial pilot of 40 to 45 staff, before rolling out more widely. This was as part of their ongoing commitment to professional development that is evidence-based and personalised for their staff. Feedback from the student surveys is private to the teacher – Mike has given us permission to use his feedback in this case study.
How was the Great Teaching Toolkit initially launched at Dulwich College Shanghai Pudong?
Mike and his colleagues started by working through the GTT Foundation Course, saying "the course really stood out to me as a way to improve the quality of teaching, and from this point on, is where I decided to make it a departmental Professional Learning (PL) focus".
As part of a group of five colleagues, Mike then started to explore the Model for Great Teaching in greater depth, focussing on Dimension 4 – Activating hard thinking. He and his colleagues decided to use the student surveys to gain insights about their current practice and help them choose what Element to work on improving first.
How were the student perception surveys used?
Mike chose to get feedback from his Year 11 class in October 2022 and noticed that the student endorsement for Element 4.6 – Activating was much lower than for the other Elements; 37% compared to other scores of between 75% and 96% endorsement. His colleague's students had a similar perspective so Mike and others in the History department decided to focus their efforts on developing practice in relation to this Element.
Mike added, "Personally, I think student perception is really important as it allows for not only myself, but my team to highlight which areas they need to work on to improve. The survey was such a useful, informative diagnostic tool that really empowered me to take advantage and take control of my own PL. It became something much more. It wasn't just my PL, but it became the PL of the whole IGCSE cohort."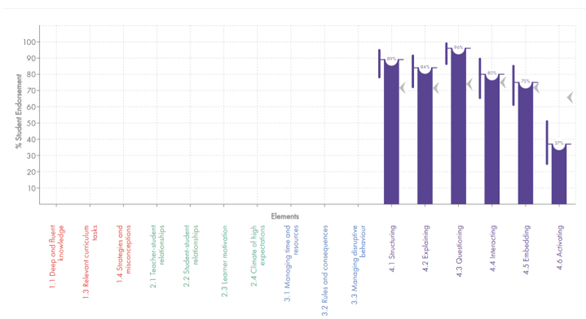 While the feedback above provided an overview, the surveys allowed Mike to dig deeper into the insights provided by his students.. The survey suggested that his students relied too much on him and that he could do more to promote student autonomy and independence. Mike then set about exploring a number of resources about students' metacognition and how teachers can help students to plan, regulate and monitor their own learning. This research gave Mike a few strategy ideas that he was able to try out with his students over the next few months.
How did you know that the changes you made were having an impact?
Following this period of integrating new strategies into his practice, Mike reran the survey twice more with the same class, once in March and once more in April. The student perception feedback showed a significant improvement, with his average score for Element 4.6 – Activating increasing from 37% in October, to 59% in March and even further to 77% in April.
The image below shows the breakdown of scores over four of the survey items, with the three bars of each showing feedback from October to April, left to right. This shows an especially noteworthy improvement for "My teacher encourages us to work independently" and "When we are stuck, our teacher encourages us to work out the answer without help".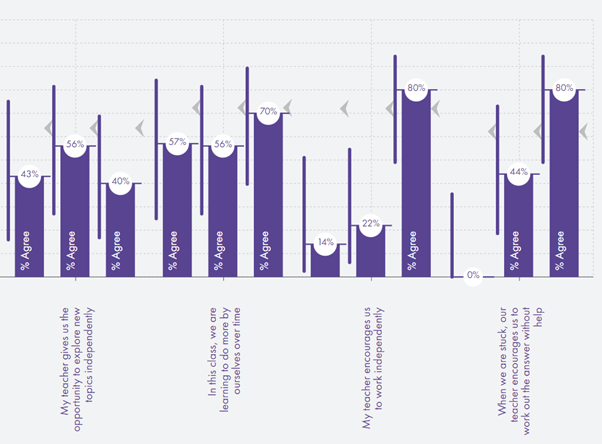 When thinking about the change he'd seen in his students over this time, Mike said "rather than me saying that they need to improve in certain areas, eventually they were able to take ownership […]. I found that the students became much more independent, autonomous with their learning, and much more automatic. This is because their skills of metacognition and self-regulation became much more fluent, and that for me is the major change."
In the next academic year, Mike explained that he intends to roll out the strategies he tried out more widely across his department.
If you would like to speak to one of the team about how you might implement the Toolkit at your school or college, simply fill out this form, and one of the team will be in touch!